"Each new day is blank page in the diary of your life. The secret of success is in turning that diary into the best story you possibly can." ~ Douglas Pagels
The end of January is upon us and the new year is in full swing. How are you feeling this first month of the year? We have mixed emotions with every new year. We think about resolutions to aspire to and goals to set and our plans for the new year seem much better than the one just ended. Did you make some resolutions? As we end the month of January have you given up on your resolutions or are you on track to make them happen?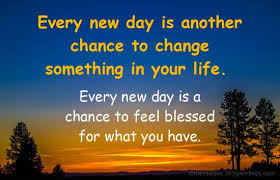 Sometimes resolutions feel good in the moment but end up causing angst because with best intentions, a few weeks into the new year, we peter out and stop. We create a cycle of intentions wanted yet no plan to achieve them. When our motivation runs out, we feel lousy.
I've shared before I 've gotten away from New Year's resolutions and have come to embrace a "word" for the year. The short version is to find a word which you resonate with. My words over the years have included "belief, trust faith, now" and grace". It works for me and I don't feel the need to beat myself up. Maybe this is something for you to consider.
The message of today is "Every Day, a Chance to Begin Again"
Every day is "New Year's Day"
Every day we get a do over
Every day the sun comes up
Every day is a chance to begin again
Every day is an opportunity to do better
How did you behave yesterday? Today you have a chance to behave better
Every day you can choose how you want the day to go
Every day is a reminder you can't change one thing about yesterday
BUT this is a new day
You can begin again and choose to have a better day.
If you ended yesterday in a fetal position, broken in grief, heartache or loss or just worried how you will make ends meet and go on, hold on tight
Every day is a new day and a chance to begin again
You may not know how
You may not even want to
You may feel at your wits end
You may feel circumstances won't change anytime soon
You may feel you have no choices
BUT you do….
It takes a shift in your mind
It takes a deep breath
And it takes a moment to stop, let go and trust
It takes some time to look at things differently
It takes a second to remember you are never alone
Many are cheering for you and in your corner even when you can't see them or feel them
Every day, a chance to begin again.
Today can be far different from yesterday.
It is a new day with a chance to begin again.
What will you do today and your chance to begin again?