"Enjoy the little things in life… for one day you will look back and realize they were the big things." ~ Robert Brault

Life is full of wonders. There is so much all around us to be happy about.
The sound of a baby laughing
A puppy rummaging through a laundry basket
The smell of your favorite meal cooking in the kitchen
An ice cream sundae or a hot chocolate brownie
The phone call from a friend you were just thinking about
Swaying to music on the radio
The smile on someone's face that puts a smile on your face
The beauty of a flower
Getting lost in a good book
The sound of laughter
The beauty of a sunrise or sunset
Finding money, you left in the back pocket of your jeans
That first cup of coffee or tea in the morning.
A breeze coming through the window on a spring day with birds chirping in the background
The sound of windchimes
Taking a nap on a warm summer day.
Watching children play
Going on a picnic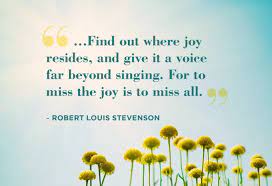 Joy lives in small places. To you and all the joy your heart can hold.