"Life is not made up of minutes, hours, days, weeks, months, or years, but of moments. You must experience each one before you can appreciate it."
― Sarah Ban Breathnach
This week I celebrated my birthday. It was a wonderful day and I'm still celebrating. The weather cooperated and it was a beautiful summer day, not too hot and low humidity. I enjoyed hearing from family and friends all day long. I feel blessed. It was a perfect moment.
I use the word "perfect" very loosely since perfect doesn't exist. In this instance, perfect is the best something can be in any given moment.
Perfect moments exist. They are all around us. We only have to take the time to notice them. Think of the things we take for granted:
• The home you live in
• The food on your table
• The beautiful possessions you have
• Fresh air
• Sunrises, sunsets
• A warm breeze on your face
• A child playing
• A smile from a stranger
• A door held open for you
And much more.
We can have perfect moments anytime we choose. Even when our worlds are stressed out, full of one problem after the other, even when there doesn't seem to be an end in sight, perfects moments can be found.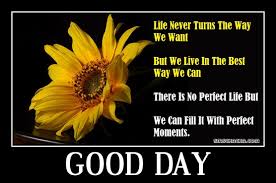 How do we go about finding or creating a perfect moment? A few a questions for you to consider:
• What makes you smile and lights you up?
• Who do you love spending time with or just being around?
• What do you love to do that makes you lose all track of time?
The answers may come easy to you or they may not. Take some time to search inside. This won't be a waste of time and once you get some answers you can begin to devote time to things that mean the most to you. Your perfect moments.
If answers don't come right away, look at your every day habits and activities with fresh eyes.
Change things up in your own environment.
• Turn off the phone, shut the TV off and step away from the computer. Spend time with your family. Play a game, share a meal together, and talk to each other without all the distractions.
• If you're by yourself, gift yourself with a half-hour and sit outside your home, your office, your apartment and enjoy your surroundings. Notice the weather. Notice the colors. Notice the sounds. Notice the people you see. Just be.
Perfect moments can be anything you want them to be. The beauty in perfect moments is they can be created any time and anywhere.
Perfect moments become habits and daily intentions you won't let yourself go without.
As you look around your life, what perfect moments are right in front of you that are yours for the taking to enjoy today? What perfect moments are waiting for you to create?
Perfect moments are wonderful to experience and worth the effort to create. In the midst of problems, challenges, stress and upset, perfect moments will be the bright spots that get you through.
To you and every perfect moment waiting for you.