"Be as simple as you can be; you will be astonished to see how uncomplicated and happy your life can become. "
~ Paramahansa Yogananda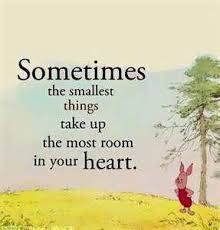 We've all heard this before Simplify your Life – Less Really is More. Do you believe this is true? Or, is this something too Woo Woo for you to consider?
What is it to live simply and simplify? We have so much. We are told to keep doing more, more, more. It's crazy and nothing short of overwhelming. But, here's the truth, when you simplify, you gain clarity. When you simplify, you have more time than you thought you did. When you simplify, you are peaceful. When you simplify, you slow down, you breathe and you are happier.
Isn't happiness what we seek? Happiness exists but I have come to realize even though I've heard this many times before, happiness is a choice. How we make the conscious choice to be happy is the challenge.
Why do we resist something that brings wonderful benefits? I believe we resist simplicity because it seems too good to be true. Really, do less, gain more? That seems too easy, doesn't it? We are conditioned to work hard constantly. The thought of simplicity and simplifying our lives seems hard to do and feels like it won't accomplish much at all.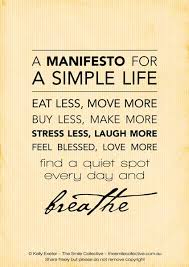 But the reality is, the more we simplify, the healthier we become and the more satisfied we will be with life. Below are some ways to simplify your life that you can begin to use today:
• Make a Short List – Write down 4-5 things most important to you. What do you value? What is a priority for you? When you know what you value and what is most essential, your priorities are simplified. Focus on what matters first.
• Organize Your Living and Work Space – Get rid of stuff you don't use.
• Get Enough Sleep – We are much more productive when well rested.
• Drop One Commitment – Review your list of what matters first. Think of all the things you are committed to doing. Look for something you might be dreading or don't really want to do. Let it go. You will feel better in the long run.
• Be Clear in Your Communication – Don't try to read another person's mind and don't make others read your mind.
• Your Health is Everything – Be diligent about self-care. Your health is your life.
• Slow Down – We are used to moving at a fast pace from one task to another. Simplify by doing less and focusing on the 4 or 5 most important priorities and do them slowly. Stay present. Breathe. This may be difficult at first but try it. Eat slower, walk slower, drive slower. As the saying goes, "Stop and smell the roses" – you will be glad you did.
• Say "I Love You" – To everyone you care about as often as possible.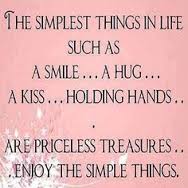 These suggestions are simple. Simple ways will cause a small drop in the bucket of doing something different to create momentum. More importantly, it's the little things we do that mean much and are the most effective. Sometimes, getting back to basics can result in profound changes. Simple is as simple does. I hope you will give it a try.
To less in your life so you can enjoy more.