"Flowers are like friends, they bring color to your world" ~ Author Unknown
Happy Valentine's Day! I hope your day is off to a wonderful start.
As noted by the calendar, today is marked as the "love" day.
Many feel it's too commercial these days, hence the cost to acknowledge and show your love on February 14th.
It's nice to have a day marked off and celebrated as a day devoted to love but it does not have to be the only day of the year, we express our love. Valentine's Day can be any day of the year. Perhaps every day if you choose to.
I love flowers and treat myself to fresh flowers every week. I also love roses and happen to have a favorite color which is peach.
I was in BJ's recently and they have a wonderful section full of fresh flowers which, of course included roses. I've purchased roses before in BJ's and/or Costco. They tend to be reasonable in price, the roses are hearty and last a good amount of time. The bunch I ended up buying was a rainbow of colors.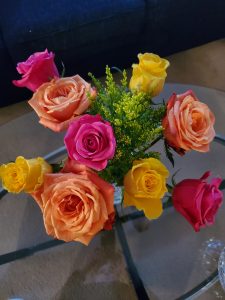 It made me think of the meaning of the color of roses. Do you know what some of the colors mean?
Red – Passion, Love, Romance
White – Purity, Innocence, New Beginnings
Pink –Gentleness, Appreciation
Peach – Sincerity, Gratitude
Yellow – Friendship, Compassion
Orange – Bridge between Friendship & Love
Lavender – Wonder, Enchantment
Green – Growth, Life, Rejuvination
Burgundy – Unconscious Beauty
Black – Sadness, Mourning
With all the different colors and meanings for each, there seems to be a sentiment to convey to everyone you hold dear. Not just for romantic relationships.
If roses aren't your thing, why not take the meaning of the color and choose a unique flower or a favorite food to express your feelings?
Either way, Valentine's Day is a great day to enjoy with every person in your life, including you!
The day will come and go. Be good to you and share your love with those around you.