"Life will break you. Nobody can protect you from that, and living alone won't either, for solitude will also break you with its yearning. You have to love. You have to feel. It is the reason you are here on earth. You are here to risk your heart. You are here to be swallowed up. And when it happens that you are broken, or betrayed, or left, or hurt, or death brushes near, let yourself sit by an apple tree and listen to the apples falling all around you in heaps, wasting their sweetness. Tell yourself you tasted as many as you could."—Louise Erdrich, The Painted Drum LP
When tragedy strikes, it's amazing what we find out about ourselves, how strong we are, how resilient and how to face our every fear. It never feels this way at first but we find ourselves in a place where we will not be held back or held down or give up. We are capable of enduring loss greater than we ever thought we could. And when we have to, we stand, heads held high, hearts open and full of hope for a better tomorrow. Each of us becomes willing to embrace a new world filled with hope; a world with new dreams to dream, as we take a risk to open our hearts again to love and still determined to go on.
The truth is tragedy and loss did not kill us.
Grief has resulted from loss and we come face to face with fear. In time we are shown an inner power that we hold which allows us to persevere during heartbreaking times that happen to all of us.
Loss makes us strong.
Loss gives us courage.
So how do we face these fears and keep going while in the midst of grief? Below are a few ideas to help you overcome fear and keep moving forward:
Trust Yourself – Sometimes when bad things happen in our lives, we immediately look to others for what to do next. There is nothing wrong with getting input from others but not everyone you turn to has experienced the same loss as you have. You have survived this loss and you know more than you think you do. Stay calm and look within. You have everything you need.
Be You Who You Are – Loss has a way of bringing out our most authentic selves. Your self care is paramount and it's important that you find out what is important to you and make choices that are true for you and no one else.
It's Okay to Make Mistakes – Carving out a new normal and a different life going forward means that you will make mistakes along the way. That's okay. Mistakes teach us and show us that you are moving along and getting better all the time!
Let Go – Whatever is no longer serving you, let it go. I've come to embrace the quote "If it's not an absolute yes, than it's a no." Worry, stress and holding tight are toxic and can only create problems for you. Problems will come at the most unexpected times. Let go of anything and everything that doesn't hold a special meaning for you.
Make a Commitment – You are the most important person in the world. It is crucial that you learn to find a way to love yourself and believe in everything about you. You are the most wonderful, loving and deserving human being, first, before anyone else. No one can treat you better than you treat yourself.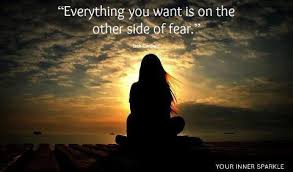 Fear can be crippling and keep us stuck far longer that it should. It can shut us down in the face of loss since loss turns your world upside down and tests us to see what we are made of.
Utilizing the above ideas can give us freedom from fear, allow us to keep going and tap into a strength we never thought we had.
I wish you much peace in moving through fear and gaining strength.