"Enjoy the little things, for one day you may look back and realize they were the big things." ~ Robert Brault
I have been extremely fortunate with good health my entire life. Surgery recently has been a humbling experience and a reminder to take nothing for granted and the power of gratitude.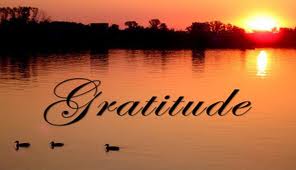 It's difficult to think about gratitude when you are experiencing health problems or loss. Yet, even in loss there is room for gratitude. With the expression of gratitude and saying "thank you", pain has a way of alleviating itself so joy and happiness can once again be found.
Pain from loss shows us everything we have shared with another human being. Losing someone you love is awful. It hurts terribly and we are less than prepared most times to handle it when it happens.
Medical issues bring up different emotions with gratitude. Activities you've done take a on a new meaning when you are in recovery and restricted from what you used to do. Perseverance, patience, kindness and taking things slow are areas of unknown territory and give new perspective to healing.
Mundane things float away and what matters most becomes more important than anything else.
• Be grateful for the difficult times – It is during those trying times we learn and grow.
• Be grateful for love – How precious it is to have loved another person and to have been loved in return. You have experienced something absolutely beautiful and lasting. Love is always a good thing.
• Be grateful for friendship – If you have only one friend in this life, you are blessed more than you realize.
• Be grateful for time – Time to share your heart. Time to heal and recover. Time to begin again. Time to make new choices. Time to be grateful for all you have experienced. Time to discover new things. Time to celebrate milestones and a new lease on life.
• Be grateful for the values you hold dear: Love, Faith, Family, Trust, Kindness, Laughter, Fun, Courage, Honesty, Integrity, Character, Companionship. When all is said and done and life is going well these values are easy to appreciate. When loss occurs or your health is in jeopardy, finances are low, you no longer have a job, someone you love is in crisis. The list goes on. Is it any wonder our perspective shifts and everything is magnified? We no longer wish to take anything or anyone for granted.
I am not proposing gratitude is easy or feels doable. As each day passes, small glimpses of gratitude appear and one small step of noticing things around you will help.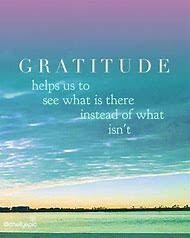 Our journeys are personal. Gratitude is a feeling and an action step. Gratitude for all that is and has been with your life is something to cherish and celebrate. Healing comes when you give yourself permission to begin to feel good. Gratitude is a choice. Momentum will build once you start to notice all there is to be thankful for on a regular basis. It is every little thing, every step and every moment can mean the most to you and change everything from sadness to joy. It takes one step at a time, a small shift, a new perspective. You'll be amazed at the strength you find inside to move past pain when you begin to feel grateful for every little thing.
Medical crises come, sometimes expected but most unexpected. I'm grateful mine is minor in the grand scheme of things. I am on a good recovery path. I realize there are others who are not as fortunate. Others who have had many medical issues and may be living on a daily basis with chronic illness. This experience has been a clear indication of how gratitude works in life. Gratitude is a feeling and definitely an action step.
I am grateful to you, my family and friends and all the wonderful people who are in my life. To you, your health and precious life. Always be grateful.