"As soon as you trust yourself, you will know how to live." ~ Goethe
It has been said trust is earned. I believe that. But, I have trusted blindly and I have trusted implicitly. I have given my trust freely. I believed the best in others and felt it was important to give someone the benefit of the doubt. Trust like that can bring great pain. I have been betrayed in the past with my trust broken to such a degree I felt hurt to the core of my being.
A shaken foundation is not an easy place to be. I would imagine you too have experienced an instance in your life where trust was broken. It is unnerving and rattles us when we least expect it.
Every connection leaves us vulnerable to getting hurt. It is the risk we take when we are in love or wanting to find love again. It is a risk when we meet new people and become friends. Anytime we open our hearts and let someone get close, we risk getting hurt.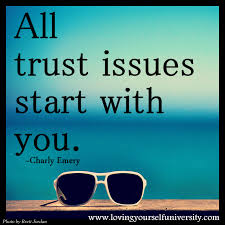 What happens when trust is broken?
Is the answer to pull away, close ourselves off and shut everyone out?
Is the answer to never trust again?
That is a negative way of being in the world. If we make that decision we make the choice to walk through life with an attitude of "get them before they get me."
It doesn't seem to be the ideal and that is not who I want to be. Do you?
The truth is trust begins with you. There is no greater trust to extend to another unless you trust yourself first. It is how the muscle of trust works.
In the past, when I gave my power away trusting blindly and implicitly, I lost faith in myself to know my world would not crumble because my trust was broken. Broken trust was heart-wrenching and for a time my world seemed to fall apart. It felt devastating.
Initially, when trust is broken, you lose the ability to trust yourself at all. Self-confidence and self-worth plummet. You are filled with doubt and insecurity. In my case, I criticized myself for not being able to see what I didn't see. I trusted. I believed and was convinced that as much as I valued someone else's trust, my trust was just as valuable. It didn't turn out that way. I found myself in a world of confusion and doubt very insecure in my ability to move on.
It was an unsettling time. It was a time when I wasn't sure things would get brighter and could be good again.
All has changed since then and I am happy to share with you life is good. Is it everything I want? No, but it is certainly brighter and filled with hope and excitement for all that has yet to come, but is on the way.
I had to learn to trust myself again, first. To show up and take care of me. We all need to do this when we lose trust or our trust has been betrayed.
There were ugly days along the way where my face mirrored "the ugly cry". The cry when your eyes swell from crying so much and your face stays red all day! Those were days I would stay home, cry my heart out and snuggle up with a cozy blanket and rest. Maybe you have had a day or two like that yourself.
It was a first step. When I had enough of those days, I felt stronger to take another step.
The next steps come in the form of being nice to yourself. Making good choices with food, exercise, getting outside for some fresh air. Slowly, in taking better care of yourself you are reminded of all the good people in your life. I realized that too.
I am grateful to have a network of love and support. Every time I showed up and took baby steps to find my trust again, I began to hear my own voice and remember what is important. I was the able to let those who love me and care about my well-being, to help me to feel better. I was not disappointed.
Trust in myself came back and it is back better than ever.
I will always remember what it felt like to have my trust broken. I will always remember how painful it was to stop believing in myself. To not trust who I am or my ability to be strong and able to move forward. I will always remember. I would imagine you can always recollect those messy times in your life, too.
These days, what matters most is the unshakeable trust I have found in myself. The strength inside knowing I will always be okay and never crumble again when my trust is broken.
It all starts and ends with trust. There is nothing anyone can't handle or face when we trust ourselves first and not care what anyone else thinks.
May you never lose trust in yourself. When the day comes and your trust is broken, get mad, cry your heart out but always remember what is inside, who you are, who loves you and keep moving forward. When in doubt, you can always trust yourself.