"What greater blessing to give thanks for at a family gathering than the family and the gathering." ~Robert Brault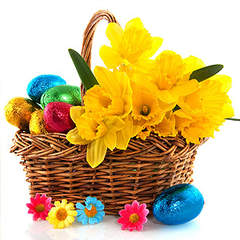 It's so nice to enjoy these first beautiful days of Spring!
I'm grateful for the warmer days, sun shining and flowers starting to bloom.
New beginnings and reasons to celebrate life!
And along with Spring comes Easter and Passover.
Today is Good Friday which marks the most solemn day of the Easter season. And Passover has just begun this past Wednesday We are blessed with two occasions before us that bring together family and loved ones.
What a perfect time to pause and be with those we love and hold dear.
Family is a treasure to cherish and a blessing.
Permanence, constancy, commitment, and unconditional love.
No matter what family you have, whether by blood or one that you created along the way, family will be there for you. Family stands by you. Family holds you up when you can't do that for yourself. Family loves you. They will be your greatest fans, your cheering section, and always your soft place to fall.
On this Easter weekend and Passover celebration, I wish you quality time with your family to fill your spirits and to bask in their love, friendship, laughter, safety and embrace.
May you celebrate each other and enjoy everything that is family.