"Music is a world within itself, with a language we all understand."
~ Stevie Wonder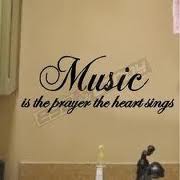 At this time of year, there is music galore. All the radio stations compete with each other as to who will start the Christmas music the first. And, the holiday tunes will continue through the month of December. It can be overkill and way too much commercialism but what is true is that music evokes so much in all of us. And as said in today's quote, it is a language we all understand.
I love music…. It has been a part of my world my entire life. I grew up with music. My Mom and Dad entertained often and music was always around us. I have a memory of watching my folks dance a lindy to Bobby Darrin's famous song, "Mack the Knife". It is a classic in my family.
What has music been for you?
Music is everywhere….
It speaks when words cannot be found.
I can't help but realize the impact that music has had in my life. There is music available for all of our personalities. I for one have enjoyed many different types of music – country music has been a long time favorite. I have enjoyed the oldies and classics of Elvis, Bobby Darrin, Frank Sinatra, Dean Martin, Patsy Cline, The Beatles. I was also a kid and enjoyed Barry Manilow, Bruce Springsteen and without a doubt Billy Joel. And then there were newer loves of Josh Groban, Andre Bocelli and Il Divo. I guess I am probably dating myself a bit with some of the names that I've mentioned. But, that doesn't matter… I'm sure you have your own that come to mind.
The point I'm trying to make is that music is all around us. It is profound and it is constant. I have a favorite country song by Trisha Yearwood, entitled "The Song Remembers When" – every word of this song brings you through a journey of how music takes you back instantly to a time in our lives… good or bad… there is a song that can remind you in an instant. That is beautiful and powerful.
I am grateful for music. It has truly been a gift to me at times in my life where I didn't know what to do or what to say.
There is a healing power in music. It offers gifts to us that by just listening to a song can change a moment from bad to good, from loss to gain, from hatred to love, and from doubt and fear to confidence and forgiveness, from sadness to joy…. That's magical, that's healing.
Some other truths about music are:
Music gives us strength at a time when we may need it most
Music fills us with joy
Music celebrates life
Music is a friend and companion
Music expresses love
Music remembers
Music empowers
Music comforts us like a warm blanket
Music speaks when words cannot
Music tells a story
Music finds you when you need it most
Music is always there
Music will allow you to express every emotion inside of you
Music gives us a way to connect with those that are here and those that are gone. Music will give you words that will allow you to express all that is inside of you, how you are feeling and it will also help you to feel better. Music can help you to pray and seek out God, the universe, or a higher power's help. Music is all of this and more.
As we approach this holiday season, I don't doubt that all the traditional music will evoke feelings and emotions in all of us. Whatever you may be dealing with at this time of year, I encourage you to use music as a gift of comfort and allow it to embrace your pain, worries and concerns and reassure you that all is well.
So I ask you dear friend, "Will you allow music to help you?"