"Spring will come and so will happiness. Hold on. Life will get warmer."

~ Anita Krizzan
I love fresh flowers. Most times I don't need a bouquet. One single flower holds the same beauty for me as a bunch of flowers. Fresh flowers make me feel good and I love the added touch they create in my home. I've created a habit to treat myself to flowers on a regular basis. They are one of the "must haves" in my life. An extra bonus is, I love giving flowers to family and friends to show how much they mean to me.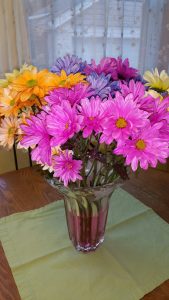 I found these tinted daisies recently and had to have them. The colors instantly put a smile on my face. As I look at them, I feel the brightness of life and joy inside for the endless stream of colors. There's something about daisies and Springtime. Daisies are bright, perky and full of life.  I am reminded of the freshness of Spring. Birds chirping, trees and flowers budding soon to be in full bloom. It is a loveliness worth noticing.
This week is a celebration of Passover and Easter. What a perfect time to give attention to Spring and the magnificence found in the season.
Wishing you and your family the love and the warmth of being together. With each new season life continues to move forward. We are meant to weather the storms, hold on and awaken to the brightness of a new day; Life is meant to be good.
May today be lighter and more carefree than it was yesterday. Even for just a moment.