"I define connection as the energy that exists between people when they feel seen, heard, and valued; when they can give and receive without judgment; and when they derive sustenance and strength from the relationship."
― Brené Brown
When was the last time you connected with someone special? Recently, I spent a wonderful afternoon with a dear, dear friend. We enjoyed catching up, chatting, laughing, sitting outside, etc. It was a perfect day and it meant the world to me to spend time with someone who is very special, whose friendship and love I cherish.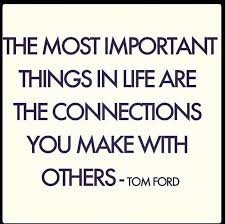 Being with my friend and spending time together reminded me of the importance of connection.
We need connection.
Connection brings us in the moment.
Connection reminds us of what's important: you, family, friends, love, time, memories, etc.
Connection reminds us of who we are.
Connection is love.
Connection is healing.
Connection breathes life into bad moments and you are reminded you are never alone.
Connection (as Brene Brown says so perfectly in today's quote) is that energy which exists between two people when they feel they are valued, seen and heard.
Connection is necessary to thrive in life.
Connection is necessary not just with people but with anything we love to do. Anything that results in bringing out our best selves is worth connecting with.
As the visit with my friend came to an end and I was driving home, I felt blessed we shared such a great day together. More importantly, I know going forward when I am tempted to talk myself out of connecting with someone I care about or doing something I know will bring a smile to my face, I will pause and remind myself connection is an absolute "yes" for me. I will make sure to schedule this joyful moment no matter what.
What can you do today to connect with someone or something you love?
I would love to hear your thoughts so feel free to reply and share your wonderful moments.
To you and beautiful connections.