"When you walk through a storm, hold your head up high.
And don't be afraid of the dark.
At the end of the storm is a Golden Sky
and the sweet, silver song of a lark.
Walk on through the Wind. Walk on through the Rain
'tho your dreams be tossed and blown.
Walk on, walk on, with hope in your heart
and you'll never walk alone. You'll never walk alone."
~Rodgers & Hammerstein
This song has been a favorite of mine for many, many years. Profound words of comfort to offer a visual of the calm that comes after a storm, a new day, a new beginning, the hope for a better tomorrow.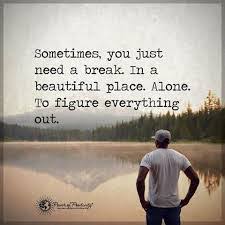 When a relationship ends the silence can be deafening. In silence you quickly come to understand the dance between loneliness and solitude.
The crushing awareness of missing the one you love brings an overwhelming sense of all you have lost. What we wouldn't do to have the relationship back so we can relieve the pain of loneliness.
The other side of the coin is the need for solitude. There are many times when you need time alone to distance yourself from the pressures of daily life. You need to reflect on the loss, to get quiet and to be with your feelings.
There is refuge to be found in solitude. It is very common and quite normal. Solitude is helpful for it will allow tears to be released and give you the opportunity to figure out what to do next.
Solitude and loneliness can cause isolation from others. Life goes on whether we go on with it or not. We notice immediately the normalcy of everyone else's world, their total unawareness time has stopped and our whole world is upside down. It feels cold and hurtful to witness. Quite often many of us detach and pull away for a time.
In the world's defense is the truth about our culture. We are uncomfortable with loss and grief. It is why we learn to grin and bear it. To control our feelings so we do not disturb anyone with our pain. We learn to cope by hiding and lurking away.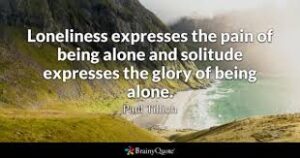 These days there are many ways to deal and cope with loneliness. Below are a few suggestions for you:
• Express an Act of Kindness –It doesn't have to be towards anyone you know, even a stranger will do. The reciprocal effects will far outweigh the act itself.
• Volunteer – There are numerous ways to volunteer: read to child, visit a nursing home, become a caregiver.
• Write About Feelings – The goal of writing is to get your thoughts and feelings out. Your feelings matter and writing can give a voice to your pain, offer privacy and aid in healing sooner than later.
• Adopt a Pet – Animals make great companions and provide unconditional love. They are fun, too!
• Find a Hobby – If you have never really found an outlet to express your creativity, finding a hobby may be an answer for you. Learning something new will give you a tool to use when the dark days of loneliness appear.
• Call Someone – Reach out to a relative, friend, co-worker or neighbor – someone you trust and feel comfortable with who can be there for you without judgment. Ask them to spend time with you even to just listen for a few moments.
Loneliness will come and go. How long it stays will depend upon what you do about it and how you choose to move past it. The pain of loss is change enough. It is true we never get over grief but you will get through it. There will come a day when it will not sting as much as it did when the loss first happened.
As quoted in the song above, "Walk on, walk on, with hope in your heart
and you'll never walk alone. You'll never walk alone."
To loneliness never keeping you down for very long. So much more awaits you.