"You will have many opportunities in life to keep your mouth shut: You should take advantage of every one of them." ~ Thomas Edison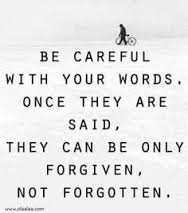 We're in the month of November. The holiday season is upon us and I thought it would be helpful to re-post this newsletter. Under the best of circumstances the holidays evoke emotions for all of us. For someone who is in pain and dealing with loss the holidays can make them feel worse.
It is not easy to know what to say when someone is grieving. In fact, there always seems to be an elephant in the room and the exchange can be very awkward. The fact of the matter is loss is painful and also uncomfortable and whenever there is grief, it's hard to know what to say and what to do for someone who is in this hurting state.
Any conversation you may be in with a person who is heartbroken offers you the opportunity to help. You can help by acknowledging to this person that you know they are hurting. You can especially help by staying quiet and just listen without advice or judgment or suggestions of how to fix the situation. And, lastly, you will have offered them the most help by giving them hope and encouragement that they will get through this pain and brighter days will come once again.
Sadly, every one of us knows someone either personally or someone we are acquainted with who is hurting and dealing with some form of grief. Emotions for all of us rise up during times of stress but for someone who is heartbroken, their emotions are overwhelming and in many cases unbearable.
Below is a list of good and bad things to say to someone who is grieving.
Hopefully, these two lists will offer insight and provide you with some welcome comments to say to someone who is lost in grief.
What NOT To Say:
I know exactly how you feel
Don't Cry – Be Strong
There is a reason for everything – God never gives us more than we can handle
You should be over this by now
Don't worry, you'll find someone new
You're young – you can have other children
At least you have other children
You need to keep busy
It just takes time
Don't dwell on it.
Look at what you have to be thankful for
Look on the bright side. It could have been much worse
You need to be strong
Good Things to Say:
I'm so sorry for your loss
My heart goes out to you
Please know that I'm here for you
You are not alone
You're in my thoughts and prayers
Remember you can call me at any hour
I don't know how you feel, but I am here to help in anyway I can
I don't know what to say
Could you use a hug?
I can't imagine what you're going through
Would you like to talk about it? I'm listening
How are you feeling – really?
I've brought you a meal to eat or freeze; it's in disposable containers so you don't have to return anything
Do you have anyone to talk to?
You're capable and competent
I've seen you overcome other challenges
Grief is a normal and natural reaction to loss.
I hope this information is helpful to you. More than anything else when someone you love is grieving please keep in mind that little things truly mean a lot. The reward for being patient with your loved one or friend is a gift that is so needed since learning to live again will take time.
The holiday season brings up many, many feelings and emotions. For a grieving person, the holidays can evoke great sadness and taking care of one's self or wanting to share in any celebration seems too hard.
As we express our love and celebrate the holidays with family and friends alike, may we also open our hearts to embrace those that are hurting and in pain. May we be more mindful of what we say and how we interact with someone who is experiencing grief and may need our help to get through this special time of year.