"When you make a choice, you change the future."
― Deepak Chopra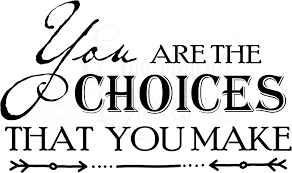 There is always a choice to be made at any given moment. Even to make no choice is a choice. No matter what, choices dictate who we are and what we will become in this life. So to coin an old saying, "choose wisely" seems not only appropriate but something to take very seriously.
We will face many challenges in life and it is during these challenging times that choices can be the most difficult to make when we are under pressure and feeling stress. So when times like these occur, it is essential that we push back and stand strong in our convictions. I do believe there are a few tried and true choices that exist and when we focus on them, we will never go wrong.
So today, I would like to share some great choices with you that I know you will never regret making:
Be the Change you wish to see in the world – we are not here to tell anyone else how to live. Live your own life and walk your own talk.
Be Grateful – You have everything you need. Notice more of what you already have and more of the same will come to you.
It starts with you first – never give up on yourself and your dreams. Take an inventory of everything that is you and focus on every strength, talent and ability you have. Always know that anything is possible.
Surround yourself with what you love – family, friends, pets, keepsakes, hobbies, music, etc. Your home and all you hold dear will always be your soft place to fall. So surround yourself with beauty and tell those you love, you love them, every chance you get.
Laugh often, out loud and as much as you can – and if you have someone who makes you laugh, spend lots of time with him/her.
Let go of whatever is bogging you down and take action – the past is done and can never be changed, let it go. Happiness, success, peace and joy is found when we stay present and take action. One small step is all it takes to get started.
Be selective with who you spend time with – surround yourself with positive and cheerful friends. Ignore the negative people in your life – their negativity is contagious and toxic.
These choices I've shared with you may seem a bit over-simplified at first glance; but as you re-read them I feel you will agree with me that they are profound in their simplicity. Oftentimes, it is the small changes done every day that yield the best results. And unless you are already making most of these choices, some may be a bit challenging at first but definitely worth a try. I hope you will do just that.