"Put yourself first. You can't be anything for anybody else unless you take care of yourself." ~ Luckybannu
I'd like to pose a reminder about taking care of you means putting yourself first. It is so easy to stay on the back burner and allow everyone else to take center stage.
I think many of us dislike the word "selfish" or we've been taught selfish is negative. How dare we put ourselves first? Others are more important and they come first.
The truth is we can never fully be present and available to those we care about unless we tend to our own needs first. What recharges my battery will be very different than what you need to recharge yours. I can't give anyone what I don't have and neither can you.
You can't listen fully if you are tired and distracted. You can't be the voice of reason if your angry and frustrated. You can't be a calming presence if you are irritated and reacting to everything instead of tending to what you can do and that is control yourself.
It's important to be selfish. It's important to fill your own cup so you have the strength and stamina to be strong and resilient for someone else. It doesn't work otherwise.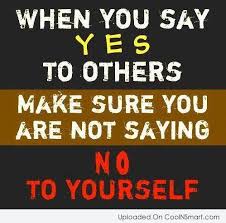 I think we all have a story or two where we've demonstrated our ability to go day after day in a stress-induced frenzy determined to get things done. But at what cost?
A routine like that is certainly not sustainable for the long term and can make us resentful. Trying to maintain such a pattern will only cause us to rebel.
Some thoughts to ponder. Before you are quick to save the day for someone else, make sure your cup is so full that what you give to someone else does not deplete you. Rather, it allows you to feel good for being there and not stressed or anxious because you were asked to help.
You really do come first and the more we take better care of ourselves, the more truly available and helpful we will be for those we love and care about.
To you being your best self!