"It is not the strongest or the most intelligent who will survive but the one who is most adaptable to change" ~Charles Darwin
Change is one of those subjects we tend to avoid. This constant force in life can be friend or foe especially when it's the last thing you may want to consider. Nevertheless, change is inevitable.
What is it about change? Most cringe and find change to be an unwelcome friend, an annoyance, even an interloper into a life we prefer to stay the same.
Change needs to happen.
How else do we grow?
How do we know deep inside what we are capable of?
How do we know how strong we are?
How resilient?
Maybe it's not about fearing change.
Maybe our mindset and the meaning we associate with it needs to change. That's the culprit. That's the real issue.
Nothing is meant to stay the same.
Tradition challenges this school of thought.
Tradition teaches us things do stay the same. Do they really?
Tradition is beautiful. It is a welcome ritual we love to repeat over and over. It is something natural to all of us.
I am sure you will agree, even tradition has its moments of change. When we plan the same occasion each year and the players are different. Isn't that change? Who is no longer here with us? Are we celebrating in the same place as we always did? Are there new additions to the family? Will there be unexpected guests and new friends to welcome? Will there be a new recipe to try to add variety to the meal?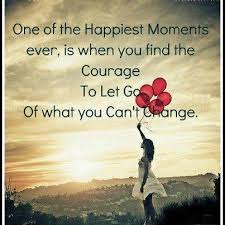 Change Change Change
It's always there. From the simplest of changes we choose to make on our own, to the profound life changes that come and are completely out of our control. Change is all around.
Why is change distasteful, fearful and unwelcome? Do we choose to see change as negative?
Do we perceive change as the enemy and an inconvenience which pulls the rug out from under us?
What if change really is a welcome addition, a breath of fresh air and something that can turn out to be good?
What if we focus our minds and accept change as a teacher to show something new and different you've never experienced before? Maybe change will warm your heart, make you smile, appear brand new, unexpected and exciting. Maybe a change will be special and wonderful as any tradition you've known and experienced.
What if change is necessary and needs to be accepted as a natural part of life and is designed for our highest good?
When the pain of loss happens and you are filled with heartache, are we not reminded of what matters in life, what is really important? Love is most important. The pain is a reminder of how big the love is. When your life is altered in pain we are given a wake-up call to do things differently with those we care about.
Change is not easy. It's difficult to sort through what ifs. There is a way of looking at change as it manifests in our lives and what to do about it.
Change is worth learning to embrace, in small doses, certainly not all at once and not abruptly.
There is not one thing we can do to stop change from happening. We can try. We can delude ourselves into thinking we can control or ignore it. It doesn't work.
We will experience change no matter what we say or do.
Turn on the news. Look at what happens every day. True, most of what is in the news doesn't affect our immediate worlds, but does it not show you that change is constant?
It's normal to react negatively when change hits and we're not expecting it. Change can bring pain, sadness, isolation, hurt, overwhelm, disillusion as many have experienced when we lose someone we love.
But even with loss, change brings with it something new. We may not like it, most of us I would say wish the change  loss brings didn't happen at all.
Change is unavoidable and we are not meant to control it, stop it or prevent it from happening. Change is a powerful necessity. And change can be our greatest advocate if we let it.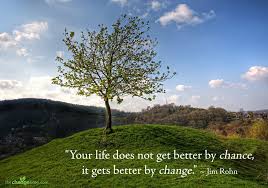 We can learn not to fear change but to see it for what it is.
A chance to grow
A chance to let go of all that no longer serves us
A chance to forgive
A chance to show our love quickly and easily because we lose too many people too soon in this life and time seems to move faster and faster
A chance begin again
A chance to dream
A chance to right wrongs that have bogged us down and caused regret
A chance to keep moving forward
A chance to stand strong in your convictions and be who you want to be and who you are in any given moment
A chance to know all is well and no matter what you are loved and are okay
Change is foreseeable. How we manage it depends upon how we decide to perceive it.
You are in the midst of the year and the year may have started with changes or there are changes yet to come. I challenge you to see every change in a light not negative or fearful but one filled with many opportunities and possibilities.
Change can encourage everyone to grow and to be our best selves. More importantly, change helps us to strive to live the greatest life we can amid anything we encounter, good or bad.
To you and the changes in your life.