"Don't rely on someone else for your happiness and self-worth. Only you can be responsible for that. If you can't love and respect yourself – no one else will be able to make that happen." ~ Stacey Charter
This week continues with a discussion about stress and its impact on self-esteem.
There are several definitions for stress. The most common one we all can relate to is: "a physical, chemical, or emotional factor that causes bodily or mental tension and may be a factor in disease causation."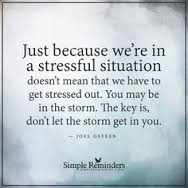 Major change affects our stress level for a long time and we are cautioned to be aware of the impact of stress on our lives. Symptoms of stress include lack of sleep, irritability, anxiousness which can affect our relationships, productivity and overall well-being. If not attended to, overstress can make us sick. We need to be aware of the stress factors in life which will take a toll on your self-esteem.
The stress adults face and, for many, more than one stress factor may be going on at the same time. If you are aware and conscious of the stress factors you are facing and how you are feeling each day, you can recognize what you need to focus on to feel better despite the stress you are dealing with.
Some major stress factors are:
• Death of a spouse or child
• Divorce
• Menopause
• Major breakup or separation from living partner
• Custody battle or major legal battle
• Bankruptcy
• Death of a family member or friend
• Serious illness
• Marriage/Retirement
• Loss of job – laid off work
• Change in a family member's health
• Working more than 40 hours per week
• Moving to a new home
• Sleep less than 8 hours per night
• Change in schools
• Change in social activities
• No vacation in last 12 months
I'm sure there are other stress factors you could add that come to mind. This list is a small caption of major life changes that happen daily. The emotional highs and lows are drastic and come suddenly. Our moods and self esteem wax and wane.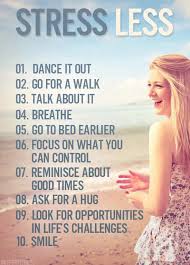 When we take the time to inventory ourselves and acknowledge the stress in our own lives, we can begin to do something to manage it and still feel good about ourselves.
Stress is no easy thing. We feel awful and when we are under attack for long periods of time, it takes a toll on our overall wellbeing. With time and effort as you manage the turmoil there are ways to feel good. First and foremost take a breath, slow down and get quiet. Under stress, self-care becomes a priority. You cannot be there for those you care about when you are depleted. Check in with yourself. Do things in small increments. Take a 15 minute walk. Get some fresh air. Drink more water. Try journaling. Get your worries and concerns out of your head and in a private space for your eyes only. And, reach out to someone you trust who can listen and let you vent. These are a few things you can do immediately which will give you a break and an opportunity to regroup, clear your mind a bit, and maybe look at things with a new perspective.
There is no magic wand to wave so stress and life changes go away. But there are real, doable baby steps to take. When small actions are done moment to moment, daily, weekly and, monthly everything helps. Improving self-esteem is worth doing. We are meant to thrive and be our best selves as much as possible.
Wishing you less stress and improved wellbeing.