"Music gives soul to the universe, wings to the mind, flight to the imagination,

and life to everything." ~ Plato
It's all over the news this week about the tragic loss of music icon, Naomi Judd. So sad she had been suffering years with mental illness and ended her life with suicide.  A career built on music. As I watched some of the news reports and clips of interviews, articles, etc. Naomi spoke numerous times how music transcended her life more so than the financial aspect of a successful career. Music had been the catalyst of love, hope and faith always.
Stevie Wonder quoted it best, "Music is a world within itself, with a language we all understand."
How true! A language we all understand. Every day, I listen to music. In the past, (I'm aging myself – LOL) I would listen to CD's I made rather than a radio station with the music interrupted by news, weather, etc. I would love to put the CD in, play it on random to be surprised what song would play next. These days, no more CD's. Music is streamed everywhere and much more easily accessible than it ever was.
How do you feel about music?
Music is everywhere.
It speaks when words cannot be spoken.
It is profound and constant. I am grateful for music. It has truly been a gift to me at times in life where I didn't know what to do or what to say.
There is a healing power in music. It offers a gift to us. Listening to a song can change a moment from bad to good, loss to gain, hatred to love, and doubt and fear to confidence and forgiveness, sadness to joy. Music is filled with inspiration. That's magical and healing.
Some other truths about music are:
Music gives strength when we need it most
Music brings joy
Music celebrates life
Music is a friend and companion
Music expresses love
Music remembers
Music empowers
Music comforts us like a warm blanket
Music inspires
Music tells a story
Music expresses all emotions
Music connects us; to those who are here and those who are gone
Music is a prayer in search of God, the universe, a higher power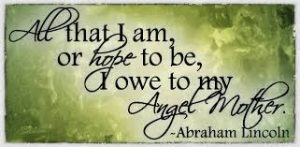 Sunday is Mother's Day, I wish you a beautiful day and I hope you have a wonderful celebration!
I'm not telling you anything you don't already know. We only get one mother. I wish everyone love and peace in their relationship with the mother they have. I understand and wish if the relationship hasn't been the best it could be or hasn't given you what you need, I pray you have been blessed along the way with other "mother" figures in your life to be there and love you unconditionally. Regardless, love is the bottom line and I wish for you nothing standing in your way from celebrating Mother's Day on Sunday.
To you, your Mom and all the Moms who have come into your life. Happy Mother's Day!