"What's meant to be will always find a way." `Trisha Yearwood
Do you ever feel as if there something in the way?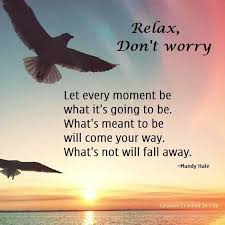 I ask because sometimes we get caught up in our everyday lives. Sometimes we can't see past the day to day. It's constant, we see it, we understand it, it's familiar. And because it's so familiar, we can't see past it. Sometimes our day to day gets in the way.
What is it you need to do?
Do you need to face something uncomfortable?
Do you need to acknowledge something you've been avoiding?
Do you need to get moving?
What is in the way?
I know you know there are times when we have something we don't want to look at.
I know you may not want to face it right now.
I know you know you need to.
I know you know if you don't, it will only get worse over time.
I know you know you think about it all the time.
What is in the way?
We all have something that bogs us down.
Something worries us.
Something keeps us up at night.
Something we want to change.
Something we wish we didn't have to deal with.
And what do we do about it?
WE LET GO!
We leave it be.
We let ourselves feel everything we need to.
We don't judge.
We pause.
We take a breath.
We find a way to focus on all that is good.
We let the answer and solution come on its own. And it will come.
Don't panic. Don't control. Do nothing.
Wait and keep waiting for however long it takes.
We anticipate the answer.
The best answer.
The best answer to solve the problem and is the best solution.
We wait because when we wait and go slowly, the best answer comes.
We realize to slow down is to speed up.
We realize, the answer always comes.
So, my friend, whatever there may be in the way for you today, go with it. Your answers will come. And they will be the best answers for you. Be patient. You won't be disappointed.